Susanne Trimbath
Susanne Trimbath holds a Ph.D. in Economics from New York University and received her MBA in Management from Golden Gate University. Prior to forming STP Advisory Services, Dr. Trimbath was Senior Research Economist in Capital Studies at Milken Institute (Santa Monica, CA) and Senior Advisor on the Russian Capital Markets Project (USAID-funded) with KPMG in Moscow and St. Petersburg. She started her career in financial services operations at the Federal Reserve Bank of San Francisco. Since 1989, Dr. Trimbath has taught economics and finance in university graduate and undergraduate programs as adjunct, associate and full-time professor. Dr. Trimbath helped create the Transportation Performance Index for the U.S. Chamber of Commerce (Washington, D.C.) which she used to demonstrate the real economic payoff of investments in infrastructure.
Dr. Trimbath authored, edited and contributed chapters to five books, including Mergers and Efficiency (2002), Beyond Junk Bonds (2003), and Methodological Issues in Accounting Research (2006). Her media credits include appearances on national television and radio programs (CNBC's Power Lunch and NPR's Marketplace) and the Bloomberg report Phantom Shares. Dr. Trimbath's articles appear in the national publications US Banker, The International Economy, and The American Enterprise in addition to academic, peer-reviewed journals. Dr. Trimbath is a contributing editor at NewGeography.com.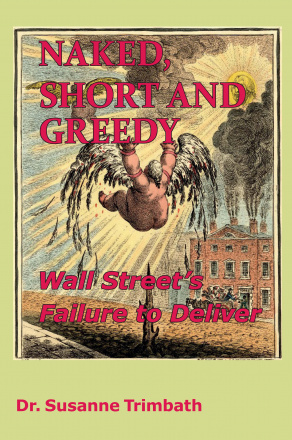 Wall Street's Failure to Deliver
Rigged financial markets and hopeless under-regulation on Wall Street are not new problems. In this book, Susanne Trimbath gives a sobering account of naked short selling, the failure to settle, and her efforts over decades, trying to get this fixed. Twenty-five years ago, Trimbath was working "backstage at Wall Street" when a group of corporate trust specialists told her about a problem in shareholder voting rights. When she went to senior management at Depository Trust Company (DTC), then and still the largest securities depository in the world, they brushed it off saying, "You can't balance the world." Ten years later, a lawyer from Texas would tell her that the same problem was about to blow up the financial markets: Wall Street brokers are using short sales and fails to deliver to grab the assets of American entrepreneurs. This is a cautionary tale. What started as a regulatory failure turned into a regulatory crisis. Shareholder democracy is in shambles. The institutions that were established to correct a problem of trade settlement failures have instead exacerbated the problem. Global financial markets may not survive what comes next.
To buy or listen to a sample of the audiobook via Audible, click here.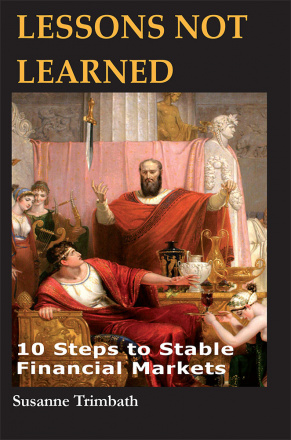 10 Steps to Stable Financial Markets
Much has been written and spoken about  the lessons learned from the financial crisis of 2009. In this book, we list the lessons not learned before the financial crisis. The purpose of this book is to demonstrate that the theoretical and intellectual frameworks for regulating financial systems that had been available since at least 2001 could have prevented the systemic failure in the United States that led to the collapse of global credit markets in 2008.