Peter Pexton
Peter Pexton is a Fellow of the Institute of Chartered Accountants, an Associate of the Chartered Institute of Arbitrators and an active member of the Society of Trust and Estate Practitioners [STEP]. Founder chairman of the Jersey Branch and immediate past chairman of Verein STEP (Switzerland), he now chairs the Membership Committee of STEP Worldwide. Specialising in offshore trusts, estates and tax planning, Peter practised as a partner in the Jersey firm of Ernst and Young, then as a director of Royal Bank of Canada Trustees Limited and more recently as a director of Ganten Group in Liechtenstein.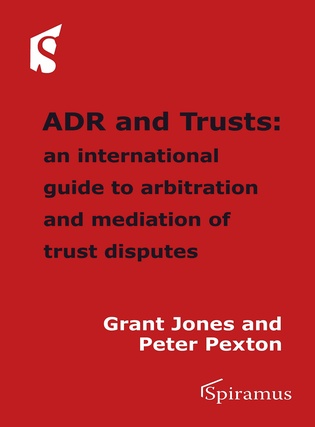 Settling trust disputes without litigation can save all parties legal costs and maintain confidentiality (reducing the risk of unwelcome publicity). ADR and Trusts is a development from the authors' accredited mediation training course for the Society of Trust and Estate Practitioners (STEP).
Part A introduces the reader to the different forms of dispute resolution, and examines the differences between arbitration and mediation of trust and fiduciary disputes.
Part B examines 27 jurisdictions and how trust law and ADR operates in each of them. Each profile addresses: arbitration law and practice, trust law, the mandatory requirements for mediation and the enforcement of ADR awards.
Mediators, arbitrators, trust and estate planning practitioners, trust managers and anyone involved in trust disputes should all benefit from reading this book.